Africa GreenTec – Crowdfunding for off-grid plants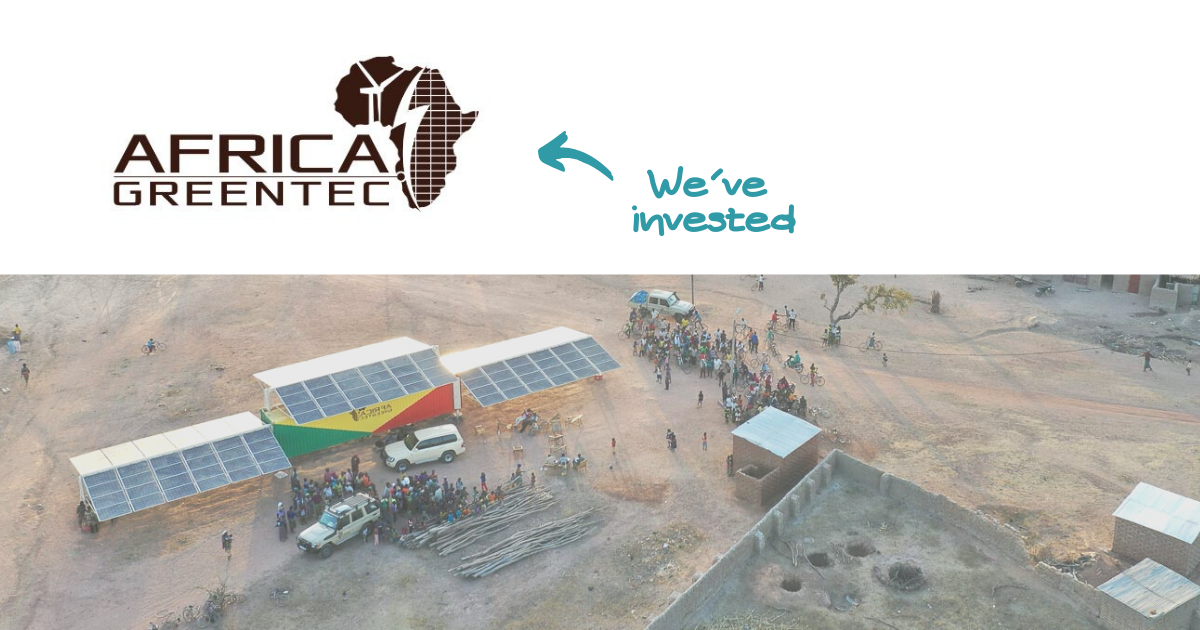 Driving forward the energy transition, creating infrastructure as foundation for value creation, fighting the causes of migration – and earning money with it. Africa GreenTec combines all these aspects and invites you to participate in its (social) enterprise through crowdfunding. Panterito followed the call and therefore presents the work and goals of the company.
Core are the Solartainers: Plug & Play solar systems – PV panels with a total of 50 kWp plus battery – in containers. They bring electricity to areas in sub-Saharan Africa that are not connected to a public grid. Africa GreenTec is mainly active in Mali and Niger, plants in Senegal are currently in preparation. These countries are at the lower end of the Human Development Index and have to struggle with political instability and strong influence of terrorist groups. The difficult situation in particular means that a large impact is achieved if the project is successfully implemented.
The cost of purchasing solar power from Africa GreenTec is significantly lower than the cost of diesel and is therefore attractive for everyone. However, the company mainly targets companies, small and medium-sized enterprises, which can be founded or increase their productivity through the new possibilities. The handicraft business, which can now use a welding machine with 3 kW. The Internet café, which benefits from the supplied connection to the worldwide web. These medium-sized businesses create added value, growth and jobs. Africa GreenTec empowers them and thus, in its secondary effect, also helps to fight poverty and migration. The Social Business presents their SDG impact on the website. But it explicitly does not want to be seen as a development aid organization:
"Africa GreenTec does not position itself as a charity organization, but we demand money for our services. This means that in Mali and Niger we sell electricity, Internet access and cooling systems, and people have to pay money for them – a fair price that is significantly lower than what they have to spend on diesel. But we have been living this partnership at eye level, which is often propagated in politics, right from the start."

Torsten Schreiber, founder and CEO (interview only available in german)
20 plants with 5-7 km of power grids each supply already nearly 25,000 people with electricity almost around the clock. According to the company, its real expertise lies in the planning, control, measurement and operation of the island networks in the extreme regions. Technically, they are far ahead with smart meters that can be configured flexibly by remote access. Africa GreenTec thus offers exactly the know-how and technology that, according to a World Bank study, is needed for the upcoming expansion of off-grid systems. The study states a worldwide demand for 210,000 minigrids – in mid-2019, around 5,500 were either built or in planning in Africa, and the trend is rising rapidly. There are already agreements with Niger for a further 50 plants. Overall, 600 million people in sub-Saharan Africa still have no access to electricity.
For this coming scaling up capital is needed. From Torsten Schreiber's story, the crowdfunding approach is obvious (this is how he and his wife Aida came up with the idea for Africa GreenTec → an unforeseen detour and a story worth hearing, for example, here (only available in german)). The campaign started in May. According to the current status, 284 investors have contributed 650,000 €. Still room for increasing and the campaign duration is unlimited. For your investment you receive profit participation rights and thus you participate directly in the growing value of the company and the balance sheet profit. You just have to have a little patience. A sale of the profit participation rights is possible in 2035 at the earliest – unless there occours an exit event.
In order to spread the idea as widely as possible, Africa GreenTec is engaged in very active communication: Torsten Schreiber seems to jump from interview to interview. But also the company's facebook and linkedIn channels regularly offer interesting background information even beyond the scope of the company's own projects. Both worth a glance.
pictures: Africa GreenTec
https://panterito.org/wp-content/uploads/2021/01/7.png
630
1200
SuperAdministrator
https://panterito.org/wp-content/uploads/2019/05/panterito-logo-web.png
SuperAdministrator
2020-09-03 14:09:05
2021-01-29 17:31:17
Africa GreenTec – Crowdfunding for off-grid plants