1450 trees planted by students of the Wild Life Club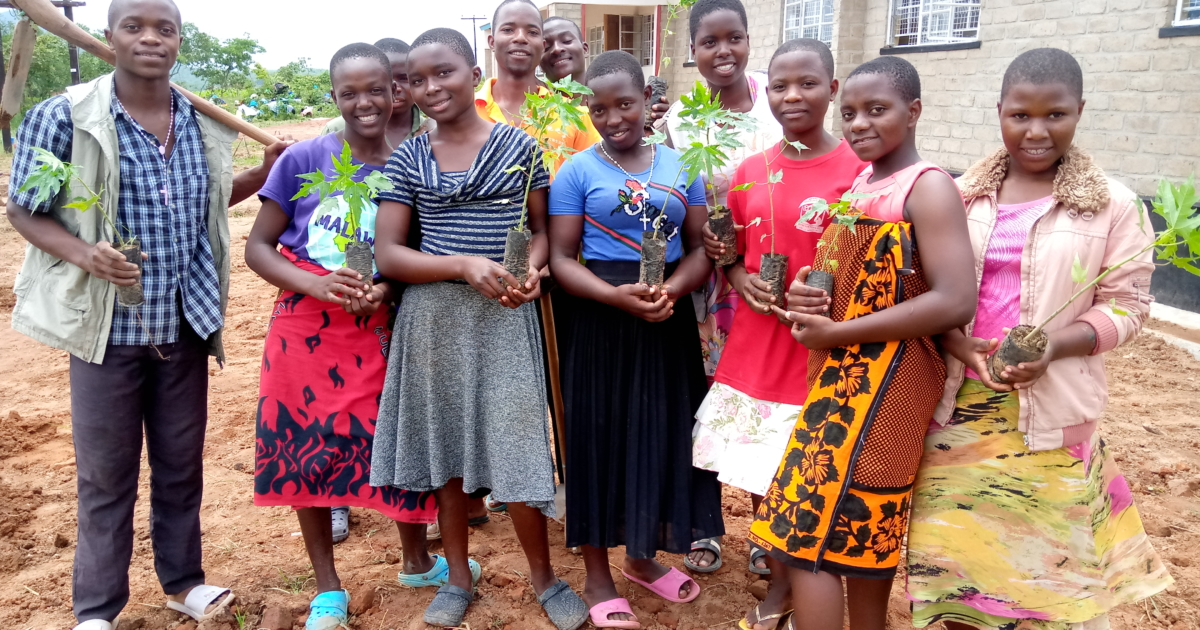 The most difficult thing was to bring the seedlings from Chitipa, 100 km away, to Nthalire, reports Madalitso from St. Ignatius Secondary School in Malawi. Because of the heavy rainfalls the road was impassable at times: "There was even a time when we spend a night on the way because the vehicle was stuck. The experience of travelling was not so pleasing."
Nevertheless, they made it: 1450 seedlings were planted around the school grounds in December: fruit trees such as banana, mango, papaya, guava or avocado – and with blue gum, pine, senna and cassia also ornamental and useful wood. The plants are intended to embellish the school grounds and are also a practical teaching unit for the students. The effects of climate change are increasingly noticeable in sub-Saharan Africa. And Malawi is one of the poorest countries in the world. The project is an attempt to explain the changes to the pupils and to develop strategies on how to adapt.
St. Ignatius is one of eight schools in Malawi, Zambia and South Africa participating in the project A Tree in Africa. Since all schools have different prerequisites, there are eight different implementations. The coordination is mostly done by the local scout network. The scouts train the students and together with the school staff they take care of planting, care and recycling.
In St. Ignatius there is a Wild Life Club, led by the teachers for geography and agriculture. About 50 pupils from this club took part in the planting campaign. Now it has to be shown how many seedlings will make it through the dry season.
More about the project and the other schools you can find here.
https://panterito.org/wp-content/uploads/2020/06/St-Ignatius-2020-02-Group-1.jpg
3120
4160
SuperAdministrator
https://panterito.org/wp-content/uploads/2019/05/panterito-logo-web.png
SuperAdministrator
2020-01-25 20:22:40
2020-07-10 00:30:23
1450 trees planted by students of the Wild Life Club